MOUNTAINS IN JAMMU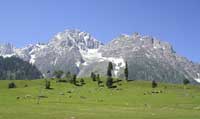 Jammu, being a part of the state J&K too has a number of high peaks. The state of
Jammu Kashmir
is the northernmost state of India and a number of mighty mountains of the Himalayan range lie in the state. The region too has got a fair share of peaks. The division is separated from Kashmir division is separated from each other by the PirPanjal Range of highlands. The highway from Jammu to Srinagar goes along the mighty foothills with the fiery waters of River Chenab running on one side. The highest point of the drive is in Patnitop.
There are a number of mountains throughout division. Almost every district has some highlands. Some of the famous massifs of province are the Brammah, Sickle Moon Peak or the Bharanzar Peak, Shivalik Range etc.
Here is a list of mountains found in Jammu division
| | |
| --- | --- |
| Agyasol | Altitude 6200m |
| Barnaj-I  | Altitude 6240m |
| Barnaj-II | Altitude 6280m |
| Barmal | Altitude 5890m |
| Brammah-I  | Altitude 6416m |
| Brammah-II  | Altitude 6425m |
| Brammah's wife | Altitude 5729m |
| Cathedral | Altitude 5635m |
| Crooked Finger  | Altitude 5630m |
| Chapra | Altitude 5600m |
These and many other mounts are found in the Division. However, the famous mountain ranges are the PirPanjal and the Shivalik Ranges. PirPanjal range covers an area of about 2621 km by 50 km. Highway between
Jammu and Kashmir
has been carved out along this mighty range of Himalayas. This is also famous for the Banihal Pass or the Banihal Tunnel. Another tunnel is coming up in near future, which, once completed will be Asia's longest tunnel.
Shivalik range of mountains is about 2100km long and 10 to 50 km wide. These are geologically the youngest peaks of the Himalayan range. They extend up to a vast area and cover a number of states of India including Arunachal Pradesh, Sikkim, Bhutan etc.