FOLKLORE OF Kashmir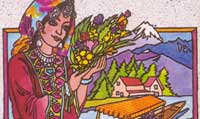 The folklore of Kashmir has an important place in the 'literature of the people' of India which has expressed and mirrored the collective urges and experience of the folk from time immemorial. The oldest extant collection of folk stories is the Panchatantra, which was written in the first century AD. Kashmiri, the major language of province, spoken by more than three million people, is an offshoot of the Indo-Aryan or Sanskrit language. It was enriched by Persian diction during Muslim rule, and later by Urdu. Its rich literature lives in its songs and ballads.
Folk songs in Kashmir preserve the myths, customs, traditions and legends of days bygone. These are the living monuments of Kashmiri poetic glory. Rural itinerant minstrels usually carry a dahra, an iron rod with loose iron rings on it, and when they sing folk-songs they shake the rings skilfully up and down so as to produce a pleasing jingle. These minstrels have mostly passed on the folk-songs stories and ballads by word of mouth down the ages.
Kashmiri folk-songs present considerable variety of theme, content and form. They can be broadly classified into opera and dance songs, pastoral lore, romantic ballads, play-songs, semi-mystic songs, etc. Then there are songs sung during particular seasons or in accompaniment to certain occupations; also sung are lullabies, wedding-songs, dirges etc.
The region has a great fund of folk-tales. They are as old as the hills. Many of them like 'ZohraKhatun and Haya Bund', Gulala Shah', 'Bombur and Loare' and 'HimalNagray' are purely Kashmiri in origin. Wazir Mal and Lal Mal are the tow famous collections of fairy-tales in pure Kashmiri dialect which the villagers cherish as their treasured possessions. These have been rendered into Kashmiri and Persian verse. Others, whose variants constitute the large majority, are popular tales of the East and the West.
Folktale of the valley is rich and is very original. People enjoy the tales and songs. The folklore of Jammu Kashmir is very interesting and enchanting. It has a rich historical significance.