KASHMIR HANDICRAFTS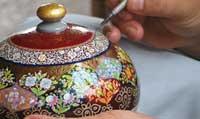 Kashmiri handicrafts are renowned all over the world for their artistic work, beauty and grandeur. Many popular crafts flourish in Valley. Kashmiri carpets, shawls, art crafts, Paper machie and numerous other handicrafts are famous all over the world. These crafts are manufactured by hand by the skilled artisans and exported to the international market. Top end Crafts are also available in the state for tourists at many retail outlets as well. Travelling to Valley to just shop for these handiworks is not a bad idea at all.
Kashmiri represents the manufacturing class of craft. The handicrafts are hand made by the skilled artisans. In the region, the handiworks are marketed directly from the source and thus there are minimal chances of pirated material. The crafts are very much attractive, beautiful and stylish and their appeal lies in their uniqueness and mystic tone which fascinates the beholder.
The handicrafts of the valley that have made their mark at the international level are shawls, carpets, silverware, wood work, paper machie and silk.
Kashmiri shawls are made from any of the three fibres – wool, pashmina and shahtoos, which is the most famous shawl. Shawl is a shoulder mantle, worn mainly in India by women across their shoulders. These are beautiful and handmade with various beautiful designs and attractive colours. The three different kinds of shawls are priced variedly and the Shahtoos shawl is the most precious and priced shawl. The shawl made from Shahtoos is known as ring shawl, which is unbelievably light, soft and warm. The price of the Shahtoos shawl is so high due to the scarcity of the material it is made of. Shahtoos is found in the eastern part of Ladakh, at a height of over 5,000 metres, where it is shed by the Tibetan antelope during grazing. The strands are then laboriously collected by the nomads and supplied to the artisans.
Woodwork of the region is also famous and is done on special Chinar and walnut wood. The wood carving pattern of the artisans is absolutely marvellous. The intricate designs carved on wood leave one mesmerized. Other handicrafts of the state and particularly Kashmir valley are also very beautiful and artistic.
The handicrafts of Kashmir have a cultural significance, so artisans strive hard to produce the best article for their clients. The valley has a rich legacy of arts and crafts and it is believed that the art was brought to the region by the Sufi saint Mir Sayid Ali Hamdani, who came to province with his seven hundred companions.
Shopping in Kashmir will be a waste if you do not grab a handicraft article. These articles are available in many shops in city centre and en route to all the major tourist resorts of the valley.