Kashmir Houseboats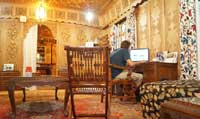 The delight in Kashmir does not end with sightseeing or an adventurous tour. It is a beautiful place where you get pleasure in everything you do. A stay on water is one of the greatest pleasures of a Kashmir tour. Houseboats are the most aesthetic and romantic part of your stay in valley. If you travel to valley, you must stay in a Houseboat once or you are going to miss a great deal here. The boats are simply wonderful. They have a rich architecture and a smooth service. The tradition of in province is very old. As there are a number of water bodies here, so a huge chunk of the population derives their livelihood from these waters and thus live on them. Life on water has been a great tradition in region and inhabitants have made arrangements to make their guests experience the beauty and wonder of a stay in water.
To catch the real essence and charm of a Kashmir-Valley-tour, it is mandatory to stay in a houseboat at least once. The wonderful delight in standing on the deck of it and watching the breath-taking scenery around, coupled with a vibrant life on water is an experience unique to valley and can be found nowhere else on earth.
The interiors of
houseboats in Kashmir
are as charming as the outside scenery. Most of the boats represent a characteristic Kashmiri architecture and are well decorated and designed with typical local wood carving. The facilities are complete. There are bedrooms with attached bathrooms, dressing rooms, dining rooms, pantry and an upper deck. The facilities are luxurious and the service is quality and swift. The boathouses, like hotels, too have classes; they are classified into standard, deluxe and super deluxe depending on the type of facilities and design. A super deluxe houseboat can be compared with any five star hotels with all luxurious facilities.
Houseboats in Kashmir
are run mainly by families, who try their level best to give you a home like comfort away from home. The families are experienced in providing the top quality service to their guests.
Tourists usually prefer to stay in boats than in a hotel in Kashmir. This becomes even more common in case of honeymoon couples. There are a large number of boats in the valley that cater to a huge number of tourists. Boats are present in Dal Lake, Nagin Lake and on River Jhelum. Generally Dal Lake is very much congested with houseboats and it will be better to book a boathouse in Nagin Lake or more preferably on Jhelum. The local crew is well trained to deal with any kind of situation, so there is no need to fear.
If you want to enjoy a mesmerized stay while listening to the sweet sound of the water dancing to the tune of the breeze, you must book in advance. Valley has witnessing a huge rush of tourists and many people are having a tough time in finding an accommodation. Online bookings are available and therefore, book your houseboats on lake in advance and enjoy the tour!
Our boathouses are surrounded by sheer poetry engulfed with beauty and a paradise which is visible to the human eyes on the face of this earth. Kashmir is the most apt location to visit and witness an era back in time.
Come and live on a floating luxurious Houseboat in Kashmir, taste our specialty cuisine and gaze at the beauty of the cobalt Dal-lake.
Houseboats Facilities

Accommodation provided on deluxe class
55 rooms well furnished with wall to wall carpet and special valley carpets, separate dressing rooms and attached bathrooms fitted with modern amenities
24-hour room service
24-hour attendant in every
Telephone in every
Cable TV in every
Safe deposit
Drinks
Doctor on Call
Laundry Services
Internet Services
At NO extra cost
Kashmir Travels feels pleasure to announce first real time online reservation system for Houseboats in Kashmir. This portal facilitates individuals to do real time advance bookings for boats, hotels, huts and various other properties J&K. Now Individuals can book Tour Packages and Accommodation in Jammu and Kashmir.