Mosques in Jammu and Kashmir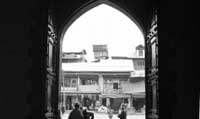 Mosques in Jammu Kashmir are another artistic display. The people of Jammu and Kashmir are very conservative regarding their religion and this makes them pour all their love and devotion into the construction of their religious and worship places. This is the reason that the religious places in Jammu Kashmir are beautiful and rich.
Kashmiris a hub of beautiful and artistic mosques, which people build out of sincere love and devotion. These mosques display a great beauty and architecture. These are wonderful structures that combine beauty, spirituality, holiness and architecture.
The main Masjid in Kashmir valley is the
Jama Masjid
, the central Masjid in Srinagar, located in the Nowhatta area, in the centre of the old city close to Lalchowk. This is an ancient Masjid that was built by Sultan Sikandar in 1400 AD and then extended by his son, Zain-ul-Abidin. The Masjids displays a beautiful Indo-Saracen architecture. The building is supported by 370 wooden pillars. It is a square shaped structure with a grand courtyard in the middle of it. The environment inside it is serene and tranquil, while the market outside is bustling. The Masjid is thronged by devotees on Friday from all parts of the valley, who offer the congregational prayers there. The mosque has been reconstructed many times, the latest being during the reign of Maharaja Pratap Singh.
Jama Masjid is a symbol or architectural specimen in Kashmir. Its pillars are a source of awe for people. The design of the building is also wonderful. It has a large space enough to accommodate around 1,00,000 devotees at a time.
There are many other important, historic and artistic Masjid in the valley. One is named Patthar Masjid (literally Stone Mosque), because of the fact that this holy place was built entirely with limestone by Empress Noor Jehan in 1620. This holy place is also an artistic treasure. It has a sloping roof which is made of stones.
Aali Mosque, built on the edge of Eidgah Srinagar is another historic Masjid of Kashmir. A visit to these and many other once of the valley will be interesting. However, the local population have a high respect for their worship places, so kindly make sure to maintain the sanctity of the mosques.