Khir Bhawani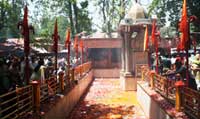 Khir Bhawani, the spring temple in Tulmula Ganderbal Srinagar is the most revered shrine Kashmiri Pandits. The spring Shrine of Khir Bhawani is located in Tulmula Village of Ganderbal, 25 km east of Srinagar. The temple is dedicated to Goddess Bhawani and it is known as Kheer Bhawani as thousands of devotees pour milk and Kheer in the sacred spring, over which the temple is constructed. The spring is very large and is revered by the local Brahmins. The temple is located in the middle of the spring. The area around the temple has been covered with smooth polished stones giving it a beautiful look. The temple has been built with marbles. It is set in very beautiful surroundings as well. Huge Chinar trees in the complex provide respite to the pilgrims from heat and the pilgrims sit or sleep under the shade of these giant trees.
Kheer Bhawani wears festive look on the eighth day of the full moon in the month of May or June. Brahmans from all over the state throng the temple to worship their beloved deity. The occasion is known as Mela Khir Bhawani. This year, in 2013, the Mela will be celebrated on 17th June. On this day the devotees fast and gather in the spring temple complex. People pour milk and kheer in the spring, which magically changes colour of the water in different shades. These colours have significance as they are ascribed to different manifestations of the Goddess. For example, if the colour of the water turns black, it signals some approaching danger.
It is believed that there were 360 springs around the main spring, but all these disappeared leaving behind marshy land. Holy journey to Khir Bhawani is considered to be the most important pilgrimage for Kashmiri Brahmins, who throng the temple in huge numbers on the occasion of the festival.
The significance of the temple comes from the famous legend attached to it. It is believed that Lord Rama worshipped Goddess Ragnya during the period of his exile, after which he asked Hanuman to shift the seat of the goddess. Hanuman brought the seat to Shadipora and then to the site of the temple. The legend also goes that it was the wish of Ragnya Devi that her seat should be placed at the Khir Bhawan temple and the wish was conveyed to a pandit, Ragunath Gadroo in his dream.
On the day of Khir Bhawani whole Kashmir wears a festive look as the Muslims of the valley also team up with the Hindus and help them in performing the religious rites. Muslims, as a goodwill gesture and a traditional heritage provide milk and special herbs to the pilgrims who offer them to their deity.
Khir Bhawani Temple
is also popular among the tourists as the temple is surrounded by rich natural beauty. The rich religious and historical significance of the temple also attracts tourists to this place.