POETRY AND LITERATURE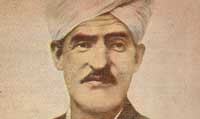 Jammu Kashmir has a very rich literary history as it has contributed a lot to the field of literature and produced eminent poets and writers. Works of Kashmiri writers have been accolade internationally. The dawn of Kashmiri literature started 2500 years back when it started with Sanskrit and other languages. However, original literature in Kashmiri language started 750 years ago.
The literature began with the work of three poets – ShitiKanth, LallaDed and Sheikh Noor-ud-Din. ShitiKanth's prime work Mahayana Prakash is a graceful composition. It was written in twelfth Century and consists of 94 vakhs each followed by translation and explanation in Sanskrit.
The greatest poet of Kashmiri language so far is LalDed. She is the most abiding influence on Kashmiri literature. She and her contemporary, Sheikh Noor-ud-Din Noorani have become famous literary icons in Kashmir. People have engulfed them in a great moss of myth and legend. Sheikh was a missionary who used poetry as a medium of individual and social reform. Another rhetorical poetess, who used to sing her own verse, was HabbaKhaatoon, the wife of Mughal Emperor Yousuf Shah Chak.
There are many other rhymesters who won the fame and accolade of the people throughout the globe for their contribution to the world of literature. Many contemporary writers of Kashmiris are also very famous and their works are being studied in various universities in America and England.
PirzadaGhulam Ahmad, popularly known as Mehjoor is one of the greatest poets the beautiful land has produced.
Mehmood Gami
Rasul Mir
Parmanand
Maqbool Kralwari
Shamas Fakir
Samad Mir
Ahad Zargar
Amin Kamil
are some of the most famous lyricists and writers of Kashmir. The list does not stop here. It goes on and on. Kashmir has a rich legacy of literary writers who contributed a lot to the world of literature.
Among the contemporary writers, RahmanRahi is the greatest name. He writings has won accolade globally and he has received many prominent awards. His writings have been translated in many languages including English.
The greatest poet of Kashmir, who wrote in English, was Aga Shahid Ali. He has written some memorable poetry and represented Kashmir at the highest level of English Literature. He, however, died young due to brain tumour.