LADAKH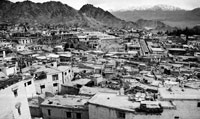 The third division of the Indian state of Jammu and Kashmir is the world's highest inhabited land.Ladakh division is spread over an area of 96,701sq km. The landscape of region is stark and bare. It is a cold rock desert. Stepping into Ladakh fills you with awe and inspiration. Nanga Parbat, Gasherbrum and the peak of K2 or Mount Godwin Austin, all over an altitude of 26000ft stand rise in the surroundings like brooding giants. The landscape of the place is hostile. Being one of the highest elevated plateaus on the planet, the temperature and the climate of the place is extremely difficult to adapt to. Huge mountains rise to thousands of feet above the ground. The land is barren yet beautiful. The atmosphere is immaculate and crystal. The night sky dazzles with bright shining stars. The experience is out of this world.
Myth and legend occupy in its past. It is regarded as the oldest inhabited land in the world by many people. People in the region have different myths, legends and stories to narrate abound its origin. In its vicinity has preserved the oldest form of Tibetan Buddhism. Travellers, who come to this Land of lamas, are fascinated not only by its encrypted beauty, but also by its rich cultural and historical heritage. A large number of festivals are celebrated every year throughout Ladakh with a passionate and zealous religious fervour. There are a huge number of ancient monasteries spread throughout the division. Buddhist monks live and worship there.
The major river that flows through Ladakh is the Indus River. River Suru, River Nubra and River Zanskar are the other rivers here. These rivers are ideal for River Rafting. Besides this, many mesmerizing lakes adorn the land. Pangong Lake is the most beautiful of these. World's highest motorable pass, the Khardungla, is located here.
Another thing that attracts people this bare rocky place is its vast range of mountains and numerous trekking routes in them. Hiking into the colossal mountains is an experience par excellence. The terrain of these mountains is extremely rough and the stunning height makes your head reel. One may even suffer for the want of oxygen at such high altitudes. World's second highest peak, K2 or Mount Godwin Austin and the 5th highest peak Nanga Parbat is located in Ladakh. The area itself is situated in the Karakorum Range of mountains. Many brave trekkers hike into these mountains every year. One of the most famous treks is the
Chadar trek
on the frozen Zanskar River.
Ladakh has an extreme climate; the temperature during winters may fall to as low as -35oC, while as it may rise as high as 45oC during summers. During winters all road connections to region remain cut off. The nearest railway station is in Jammu and, hence the only way to get there during winters is by air.
Ladakh Information
| | |
| --- | --- |
| Area | 97,000 sq Km out of which nearly 38,000 sq. Km are under Chinese Occupation since 1962 |
| Altitude | Leh 3505 m, Kargil 2750 m |
| Temperature | Max Min |
| Summer | 30.0 C - 4 C |
| Winter | 15.2 C -25. C |
| Rainfall | 15cm, 6" (annual average) |
| Best Season | Mid May- Mid August |
| Clothing | Cotton & light woollens in summer and heavy woollens including down-filled wind proof upper garments in winter. |
| Population | Approx. 2.40 lakh in the 2 districts of Leh & Kargil. |
| Languages | Ladakhi including Balti / Purgi, Shina or Dardic, Urdu / Hindi |
How to Reach
Air
Indian Airlines, Kingfisher Airlines and Jet Airways operate regular flights to Leh from Delhi and Shuttle services to Srinagar & Jammu and to Chandigarh. Leh airport is 6 kms. Away from City Centre.
Road
On the Kargil-Leh highway
The main overland approach to Ladakh is the 434 Kms Srinagar-Lehhighways (open May/June to October). This historic road passes through Kashmir picturesque countryside till Sonamarg (86 Km) before ascending the Zojiala pass (3,529m). It connects the most populous parts of Ladakh including Kargil Town (205 Km) where the journey has to be broken for the nigh.
The other land approach is the 473 km Manali-Leh road (open July-September) which runs across 5 passes, the lowest being Rohtang-La (3,878 m) and the highest Taglang-la (5360-m). J&K State Road Transport Corporation (J&K STRC) operates regular bus services between Srinagar and Leh/Kargil while HP Tourism Operates coaches on the Manali-Leh route. Taxis are easily available from Srinagar and Manali for visiting Ladakh.