Jammu Kashmir Music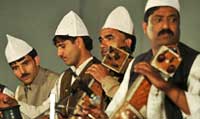 Kashmir has had a rich musical legacy. The prime form of music that prevails in the valley is the Sufiana music. SufianaKalam was brought to Kashmir with the arrival of Sufism. Sufi music involves the use of musical instruments like santoor and saz, besides sitar. Specific dance forms are also associated with it. The most popular dance form is the "roaf" performed by girls usually during festival time. "Roaf" involves making certain rhythmic movements to and fro, while the girls hold each other and sing gleefully.
Kashmiri music is mainly influenced by Central Asian music, as it involves the use of the same instruments and musical scales. Various forms of music prevalent in Kashmir are Chakri, Roaf, Ladisha, SufianaKalam and Classical music.
Chakri
Chakri is the original and traditional folk music of Kashmir. It is one of the most famous musical forms of the valley sung by a singer along with his chorus with the musical instruments like Harmonium, Sarangi, Rabab, Nout etc. It is a traditional form of singing and is also an interesting method of narrating the legendary folklore stories. It usually culminates with "roaf" and together they are called "Chakirtiroaf", (Chakir is sung by specialist singers who have a heavy hoarse voice).
Roaf
Roaf is actually a dance form which is accompanied with singing. This musical form is performed on important occasions like on the appearance of Crescent for Eid, marriages etc. This form is performed without any musical instruments. In Roaf, girls divide themselves in two rows of 5 or 6 girls each. They then make a rhythmic movement to and fro, while they go on singing. Occasionally one of the girls, with the best voice, comes out of the row to perform some other movements, while she alone sings. The form of roaf that is played on marriages is known as wanwun. The singers in roaf, may or may not be professionals.
Ladisha
Ladisha is another traditional folk music. This is humorous form of music and of sarcastically in tone. This form of music is now on its wane and is rarely telecast on local TV channel. Traditionally the singers used to move from place to place, particularly during harvest and sing these humorous songs and hint at the prevailing social evils in the society. The songs are composed over some issues relating to the society. The songs are sarcastic in tone, however, much amusing. The singer usually has an iron rod, in which are inserted some iron pieces. The singer jerks them rhythmically and thus derives the music from it.
Other forms of music are also popular in the valley, particularly the sufiana form. This music involves the use of hundred-stringed instrument called Santoor. This form of music traces its origin back to Iran, from where it entered Kashmir.