LADAKH TREK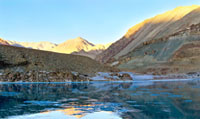 ADVENTURE : Shang La-Matho La-StokKangri Trek
ADVENTURE CODE : KT-LT/088
GRADE : Tough
BEST TIME : July to October
DURATION : 9 days
Choose your trek package from our range of packages. The next journey starts soon. Don't miss it, book it now! With Kashmir Travels Group
Discover Amazing Trek! Get Started Now.
When to book :
It is wise to make your booking at least 15 days before the trek starts. Please feel free to contact Kashmir Travels Trek Division for any queries.
DAY 1 :
Two-hour drive from Leh to Martselang, near the famous Hemis monastery. Down the village is the gorge of the Indus valley. The track traverses the river through the narrow gorge. A group of houses on a slope in Shang la village welcome you with the track passing below. You may pop into one of the mud houses as well.
DAY 2 :
Ascend to the village. Have a panoramic view of the stone-fenced fields. The track begins to ascend gradually and then becomes steeper on way to the camps of Shang Phu. A pasture here is decorated by acluster of Juniper trees with a small shrine-acharacteristicLadakhicountrysidelocale withphu-lus, small stone-huts that serve as their abode in summer.
DAY 3 :
The trial ascends now. There arebushes and wild rose bushes. The trial now ascendsto the top of Shang La for about three and a half hours. The pass offers fascinating views with Stok and Matho La Kangri peaks in front and the ParchaKangripeakon the back. The trek route isenormous.
DAY 4 :
A three hour walk up, traversingside streams, heads to the base of the Matho La. Ascend the east incline of the MathoKangri Massif(19,000ft). The mountains are bare without any snow. From here Ladakh range and the Khardung La can be seen and past that are the tall mountains of the eastern Karakoram Range.
DAY 5 :
Climb to the gorge (16,100ft), the StokKangri emerges from here.A mild descentleads you to theMyungkirmo meadows next to a brook. Ascend towards west to the StokKangri.
DAY 6 :
Strength and endurance are the prerequisites for the trial to the summit of Stoklocated at 20,506ft. It is an extremely tough and challenging track. Be prepared for the thrill!
DAY 7 :
A long and strenuous trek which is a real endurance test. Early start is ideal. A steep hike from the ridge top, you will see the huge chunks sliding from the glacier. A long challenging hike takes you to the peak. From this top you have a majestic Bird's eye view of entire Ladakh.
DAY 8 :
On the leftof Mungkirmomeadow, trek along the MankyarmoRiveruntil it unites with the StokRiver. FollowStok river and you will finally reachStok village.
DAY 9 :
After successfully exploring the summit it is ideal to spare a day to see Stock.The most fascinating thing aboutStok is its Palace. The Palace has a history which might appeal your aesthetic bent of mind. The Palace offers different views at different times. It is ideal to end your hike with a leisure pleasing tour to the Palace.
We will go the extra mile to facilitate your booking. Whether you have a sports team, school group or band. Best Price Guaranteed. Discover Amazing Trek! Get Started Now.