PAHALGAM-KOLAHOI GLACIER TREK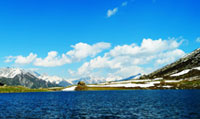 Choose your trek package from our range of packages. The next journey starts soon. Don't miss it, book it now! With Kashmir Travels Trek group.
Discover Amazing Trek! Get Started Now.
When to book :
It is wise to make your booking at least 15 days before the trek starts. Please feel free to contact Kashmir Travels Trek Division for any queries.
In the event of cancellation of Kashmir trek.
ADVENTURE :
Pahalgam-Kolahoi Glacier Trek
ADVENTURE CODE :
Kashmir-Kolahoi/ 192
GRADE :
Easy
BEST TIME :
May to October
DURATION :
5 days
DAY 1 :
13kms from Pahalgam to the sloping Aru pasture. The trek goes through a forest following River Lidder and takes around four hours. Various view-points offer breathtaking view of pine groves and the Tulian peak above Pahalagam. At Aru the Lidder vanishes underground at Gukhumb, to reappear a while later. Aru is a little village overlooking a meadow. A stream coming down from Armiun side of the Kolohoi glacier traverses the meadow. Hotels and rest houses are available, and you can pitch your own tents as well.
DAY 2 :
11-13km from Aru to Lidderwatt. The day starts with a steep ascent. However after it, the track moves through a forest with flat ground or a gentle incline. Before reaching Lidderwatt glacier, cross the stream coming from Kolohai glacier.Lidderwatt is a pasture amid dense forest with rivers on either sides. Choose a spot and pitch your tents.
DAY 3 :
11-13km from Lidderwatt to Kolohai glacier. The trek moves largely along Lidder River, through a pine forest until you reach Satlanjan, a large open area. After crossing many streams and shepherd huts, you will see the Kolohoi glacier, isolated and impressive. For a better view, move along the boulders and talus so that you directly face the glacier. Enjoy the altitude and Nature. Return to Lidderwatt for the night.
DAY 4 :
Return from Lidderwatt to Aru.
DAY 5 :
Aru to Pahalgam and then back to Srinagar.
Package Includes

Transportation
Meals
Hotel / Houseboat Stay in Srinagar
Food during the transit
Mules or porter to carry personal luggage
Note

Room category in all packages is the based tour Type.
In case Kashmir Travels is not able to provide the same hotels as mentioned, then we shall provide similar alternate properties, change in the cost if any will be advised.
Kashmir Trek Packages
No need to surf Multiple Sites for Kashmir travels trek packages, quotes, travel plans! Simply fill the booking form and Get up to 4 budget quotes in your MAILBOX.
We will go the extra mile to facilitate your booking. Whether you have a sports team, school group or band. Best Price Guaranteed. Discover Amazing Trek! Get Started Now.